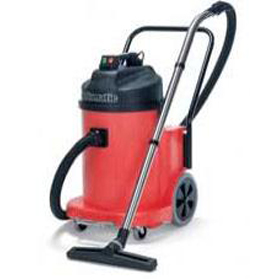 Image for illustrative purposes only.
What we have here is the Numatic NV 570 wet or dry vacuam and has a container size of 40ltr.
Power is supplied by a single motor (twinflo) 1000watts working with a dual 2 stage primary filter system.
This machine can also be supplied in a twin motor form.
This vac is very usefull where construction work is being done for cleaning up after workmen on site using its dry filters in place and dry vac attachments ie cleaning up after tradesmen.
Removing the filters and replacing them with a wet system this vac can be transformed into a machine to suck liquids from surfaces using a wet head attachment and when full the container can simply wheeled away to be emptied.
This machine will be supplied in either dry or wet vac form
and comes with a standard 38mm accessory kit and floor nozzle.
Power supply 110v.
Requires 1000 watts of power.
Capacity 40 ltr.
Weight 23 kg.
Size 800x490x880mm.
Hire Item
Price
Datasheet
Wet & Dry Single Motor
1 Day: £15.00
2 Days: £19.50
3 Days: £22.50
4 Days: £25.50
1 Week: £30.00
Related Links