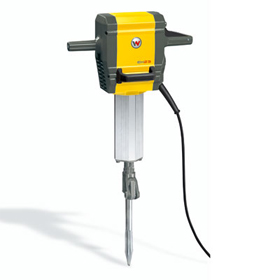 Image for illustrative purposes only.
These electric universal breakers can be used, in addition to breaking up and demolition work, for driving in earthing rods as lightning conductors, driving in piles using special hoods, and ramming in probes to obtain soil samples for geological purposes and environmental soil examinations. The telecommunications construction sector, and fencing/tent building companies are also frequent users of this type of equipment.
Driven by a powerful tried and tested electric universal motor with protective insulation for connecting directly to the mains.
A specially designed protective hood, which is made of shock-resistant plastics, ensures excellent cooling of the motor as well as ensuring good noise suppression.
The vibration-damped handles and, in particular, the almost recoilless air-cushioned percussion system, ensure a practically vibration-free operation.
Thanks to the optimum spring mounting of the three operating handles and the complete engine protective hood this machine is suitable for long periods of operation.

Note: Extension rods and steels extra at cost.
Hire Item
Price
Datasheet
Road Breaker
1 Day: £23.00
2 Days: £29.90
3 Days: £34.50
4 Days: £39.10
1 Week: £46.00
Related Links