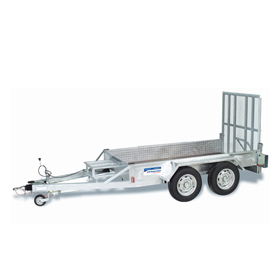 Image for illustrative purposes only.
The AD2000 is an 8' x 4' twin axle trailer constructed in sturdy chequer plate steel with a G.V.W of 2600kg.
Patented Indespension 'SuperRide' suspension.
Galvanised chequer plate steel construction.
Full width mesh loading ramp complete with 'knee' support.
Load bearing chequer plate steel mudguards.
Phenolic non-slip ply flooring.
Protected rear light clusters & Heavy duty jockey wheel.
Indespension coupling fitted with a 40mm towing eye as standard.
Gross Vehicle Weight: 2600Kg.
Unladen weight: 548Kg.
Internal body dimensions: 2.52 x 1.26 x 0.27m.
(LxWxH).
165R13 wheels & tyres.
Hire Item
Price
Datasheet
Plant Trailer
1 Day: £14.00
2 Days: £28.00
3 Days: £42.00
4 Days: £56.00
1 Week: £70.00
N/A
Related Links