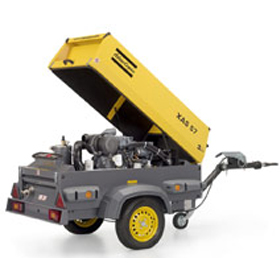 Image for illustrative purposes only.
The XA(T,H)S 37-97 range of portable air compressors from Atlas Copco is an innovative range of single axle, oil-injected rotary screw compressors.
Powered by a 3-cylinder KUBOTA engine or a 2 or 3-cylinder DEUTZ engine, the Series 7 compressor will provide a reliable source of compressed air to drive various pneumatic tools, including chipping and jackhammers, nut runners, grinders and hammers.
Hire Item
Price
Datasheet
Diesel 90 cfm
1 Day: £32.50
2 Days: £42.25
3 Days: £48.75
4 Days: £55.25
1 Week: £65.00
Related Links