Alloy Scaffold Towers (Mobile)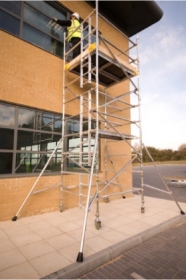 Image for illustrative purposes only.
Integral ladders with 250mm easy climb rung spacing.
500mm frame rung spacing in compliance with Work at Height Regulations.
Ribbed rung tubing for increased grip.
3T – Through the Trap build method.
Two widths – 850mm Single Width and 1450mm Double Width.
2 slip resistant deck lengths – 1.8 and 2.5 with self closing trapdoors and windlocks.
Maximum platform safe working load is 275kg.
Primed brace claw mechanism.
Ease of brace identification:

Red – horizontal.
Blue – diagonal.

Horizontal braces used as guardrails.
Floating frame spigots.
Self cleaning adjustable legs.
Castors with compact trail/no trail positive locking brake mechanism.
Deck board edge protection provided by aluminium deck profile.
Easy to use toeboard system.
Lift shaft/confined space stabiliser available.
Note: All towers come complete with stabilisers (extra ladders, platforms at cost, week hire only).
| | | |
| --- | --- | --- |
| Hire Item | 1 Week | Datasheet |
| 1.5m (5'0") | £28.00 | |
| 2.3m (7'7") | £35.00 | " |
| 3.1m (10'2") | £42.00 | " |
| 3.5m (11'6") | £45.00 | " |
| 4.3m (14'1") | £47.00 | " |
| 5.1m (16'9") | £53.00 | " |
| 5.5m (18'1") | £55.00 | " |
| 6.3m (20'8") | £60.00 | " |
| 7.1m (23'4") | £65.00 | " |
| 7.5m (24'7") | £68.00 | " |
| 8.3m (27'3") | £70.00 | " |
| 9.1m (29'10") | £78.00 | " |
| 9.5m (31'2") | £80.00 | " |
| 10.3m (33'10") | £84.00 | " |
| 11.1m (36'5") | £90.00 | " |
| 11.5m (37'9") | £94.00 | " |
| 12.3m (40'4") | £106.00 | " |
| 13.1m (43'0") | £114.00 | " |
| 13.5m (45'9") | £118.00 | " |
| 15.0m (47'10") | £128.00 | " |