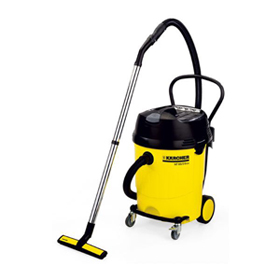 Image for illustrative purposes only.
The NT 65/2 Eco is a powerful wet and dry vacuum cleaner with an exclusive Power Filter Clean system for constant high suction power and long periods of uninterrupted operation.

This unit features a compact fan housing with a separate filter cover for easy access to the large flat pleated eco filter. The filter is cleaned efficiently with the aid of the Power Filter Clean function (air pulses activated via remote control lever) to ensure high suction power at all times, longer periods of uninterrupted operation and a long filter life.

The NT 65/2 Eco is equipped with an electronic level monitor which shuts off the suction when maximum capacity is reached during wet pick-up to prevent overflow. An oil-resistant drain hose allows easy discharge of fluids into a drain. The clip system ensures simple and quick accessory changes.

There are on-board holders for the hose and accessories as well as a large tray-like surface on top of the unit for parking tools. Two large wheels and two castors, one with brake, make the NT 65/2 Eco highly mobile.
Hire Item
Price
Datasheet
Double Motor
1 Day: £18.00
2 Days: £23.40
3 Days: £27.00
4 Days: £30.60
1 Week: £36.00
Related Links