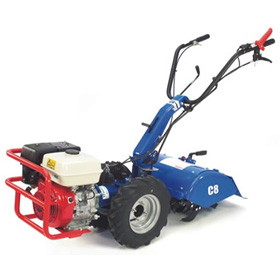 Image for illustrative purposes only.
Ideal for allotments and gardens it is also capable of providing a great finish in previously uncultivated ground.
It is simple to operate and with the minimum amount of fuss you will be able to significantly reduce the effort and time required for every job.
Engine: 8hp Honda GX240 petrol engine.
Weight: 105kg.
Working width: 52cm (20").
Digging depth: 23cm (9").
Speeds: 1 forward + 1 reverse.
Wheels: 4.00 x 8.
Dimensions: 170 x 60 x 90cm.
Hire Item
Price
Datasheet
Cultivator 8hp Petrol
1 Day: £32.50
2 Days: £42.25
3 Days: £48.75
4 Days: £55.25
1 Week: £65.00
N/A
Related Links