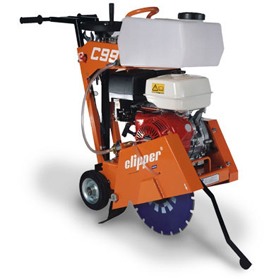 Image for illustrative purposes only.
The Clipper C 99 is a compact and economical floor saw, for wet or dry cutting of asphalt or concrete. The outstanding cutting performance is obtained by the optimal weight distribution. The positioning of the 20 litre water tank adds weight onto the blade while maintaining an excellent view of the cutting operation By means of a handwheel the operator can adjust the cutting depth, indicated by a gauge (patent pending).

The handle is adjustable to the operator height and stays level at any cutting depth. Vibration is kept to a minimum with the heavy-duty frame of the C99 which will extend the machine life and add confort to the operator - The best performance is obtained with genuine NORTON dry or wet cutting diamond blade.
Continuous depth control with a handwheel. The depth is indicated by a gauge (patent pending).
Easy to service 4 V belts drive.
Cutting depth up to 140 mm.
Removable 20 litre poiyurethane water tank with large opening for filling, inbuild coupling for external water supply.
Easely adjustable handle to the size of the operator.
The handle stays at the same level at any cutting depth.
Vibration reduced by heavy duty frame.
Optimal weight distribution results in outstanding cutting performance.
Shaft locking device for easy blade removing.
Pivoting blade guard, stays permanently on the machine.
Standard 20 mm twin blade mounting.
Lifting hook in the center of gravity of the floor saw.
Easy access to the fuel tank.
All neccessary tools stored on the control panel.
Rear wheels and blade shaft bearings equipped with grease nipples.
Rear wheel in recess from the cut and permits to cut in parallel of an open trench.
Parking brake for safety.
Heavy duty pillow block bearings on 30 mm blade shaft.
Note: Discs available at cost.
Hire Item
Price
Datasheet
Road Saw 18" (Petrol)
1 Day: £30.00
2 Days: £39.00
3 Days: £45.00
4 Days: £51.00
1 Week: £60.00
N/A
Related Links