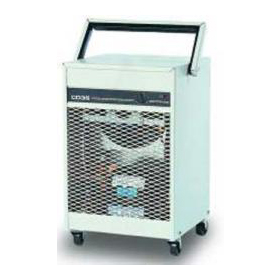 Image for illustrative purposes only.
This dehum CD35: Commercial Dryer Suitable for environmental control application in storage areas and houses with 2,3,4 bedrooms.
Suitable For Burst Pipes, Roof Leakage, Deflooding, Carpet Shampooing, Storage Area and Cellars.
Single Speed Fan.
Variable Humidistat.
Automatic Cut Off.
Hot Gas Defrost.
Integral Non Spill Container.
Robust Castors.
Running Costs Approximately 2.5p Per Hour.
250 Watts 230V 50Hz.
Nominal Effective Volume 10m3.
Carrying Handles.
Mildew and mould can have disastrous consequences on the fabric of properties and their contents and can also cause serious health problems. The light but compact CD35 is the answer, costing no more to run than a TV set and requiring no installation. It will operate quietly and efficiently.
Power consumption 250watts.
Hire Item
Price
Datasheet
Portable
1 Day: £16.00
2 Days: £20.80
3 Days: £24.00
4 Days: £27.20
1 Week: £32.00
N/A
Related Links