2" Submersible Pump, Electric CW Hose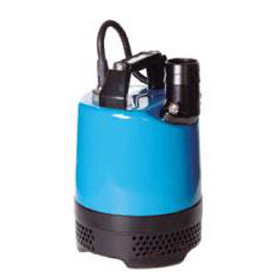 Image for illustrative purposes only.
The LB 480 and LB 800 submersible pumps are extremely robust, compact contractor pumps, that have a 50mm / 2" outlet and a tough pressed steel strainer base and body. They offer excellent durability during periods of continuous use and/or operator abuse. The LB480 & LB800 models incorporate a dual position outlet port, to enable the user to position the outlet hose horizontally or vertically and avoid it kinking. A choice of either 0.48kW or 0.75kW motors in the range facilitate cost effective pump selection.
A combination of a rubber pump chamber and a urethane vortex impeller provides excellent wear resistance in site water applications that contain sand and silt in suspension, thus maintaining performance and reliability.
Both models use a 403 stainless steel shaft that is fitted with an ultra hardwearing, silicon carbide, double mechanical seal, (in an oil chamber), with an oil lifter to maintain seal lubrication during operation in any position. This feature, combined with the water and air cooling route to the top outlet, allows the pump to operate for extended periods with little or no water. Considered the "hire industry standard", Supplied with 10 metres of heavy duty power cable.
Flow rate 225 l/min.
Water head height 11 mtrs.
Power .48 kw.
Outlet 50mm.
Input 110v.
Weight 10.4 kg.
Height 187mm.
Diameter 275mm.
Hire Item
Price
Datasheet
2" Submersible Pump, Electric CW Hose
1 Day: £17.00
2 Days: £22.10
3 Days: £25.50
4 Days: £28.90
1 Week: £34.00
N/A
Related Links