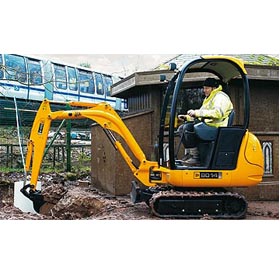 Image for illustrative purposes only.
1.1 litre capacity engine boasting 11% greater fuel efficiency, lower emissions and a 30% greater capacity diesel tank over previous models.
Tubular boom design with its light yet rigid construction provides outstanding strength and durability.
Two-piece slew frame allows the longitudinal positioning of the engine, placing fuel and hydraulic tanks at the rear of the machine. This increases stability and reduces weight by removing the need for excessive counter-weighting.
Improved servo controls and advanced 'micro section' valve block produces smoothness, accuracy and multi-functionality, without reducing power or speed.
Cushioned rams offer assured control and performance.

Hire Item
Price
Datasheet
1.5 Ton
1 Day: £60.00
2 Days: £120.00
3 Days: £150.00
4 Days: £180.00
1 Week: £200.00
Related Links