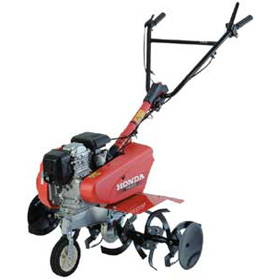 Image for illustrative purposes only.
The Honda FG500 tillers/Cultivators/rotavators are the logical starting point for the commercial or serious gardener. They are the ideal machines for those users requiring extra durability and power.
Features include a powerful 5.0 hp OHC engine and an extra-wide working width of 966 mm for efficient work on large plots of medium tilth. Single speed transmission. Tines supplied as standard. Deadman's handle for added safety. Y-shaped loop handles adjust to your height for maximum comfort.
Main clutch deadman.
Working width 875mm.
Speeds 1 forward.
Engine 5.0hp OHC 4-stroke.
Handle bar shape Y-shaped.
Handle bar swing Yes.
Handle height adjustment Yes.
Dry weight 54kg.
Dimensions (L W H) 1460mm x 925mm x 990mm.
Noise value (db(A)) 81.
Vibration (m/sec²) 14.
Hire Item
Price
Datasheet
5hp Rotovator
1 Day: £22.50
2 Days: £29.25
3 Days: £33.75
4 Days: £38.25
1 Week: £45.00
N/A
Related Links