Hydraulic Breaker CW Unit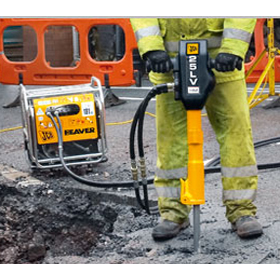 Image for illustrative purposes only.
Vibro damped handles which give amongst the lowest vibration levels of any equivalent breaker.
Sealed hydraulic system resulting in low noise (no exhaust port) and elimination of freezing problems.
Very robust cast steel construction for maximum strength and durability.
High reliability and long service life, thanks to only having two moving parts and constant lubrication by hydraulic oil.
Note: Extension rods and steels extra at cost.
Hire Item
Price
Datasheet
Hydraulic Breaker CW Unit
1 Day: £32.50
2 Days: £42.25
3 Days: £48.75
4 Days: £55.25
1 Week: £65.00
N/A
Related Links