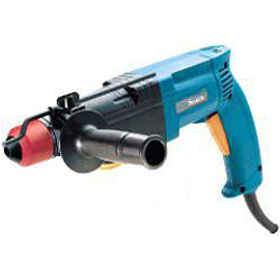 Image for illustrative purposes only.
This Makita SDS and Rotary Hammer Drill features forward and reverse rotation, variable speed, torque limiter, rotary only and rotary hammer only selection, and thanks to the double insulation you get added protection.
Maximum in Concrete: 24mm.
Maximum in Steel: 13mm.
Maximum in Wood: 32mm.
Joules: 2.0J's.
Blows per Minute: 0 - 4,900bpm.
No Load Speed: 0 - 1,050 rpm.
Input Wattage: 680 watts.
Net Weight: 2.3 kg.
Hire Item
Price
Datasheet
SDS Core Drill
1 Day: £8.00
2 Days: £10.40
3 Days: £12.00
4 Days: £13.60
1 Week: £16.00
N/A
Related Links